News, Events & More
Fall 2018 Events
Posted: 10/9/2018
NAVY vs NOTRE DAME FOOTBALL VIEWING
Sat. Oct. 27th  Game Time 7:00 PM
Mitchell's Sports Bar 1923 Lockhill Selma Rd. San Antonio, TX 78213
OR
Corner Pub 1310 RR 620 (in the corner) Lakeway, TX 78734
Previous Fall 2018 Events
Halloween Care Package Assembly, Meeting, Navy Football vs. Houston
Sat. Oct. 20th 12:00 PM – 2:30 PM
The Villa at Gruene 1190 Gruene Rd. New Braunfels, TX 78130
Mixer  Aug. 25th 2:00 – 4:00 PM  The Villa at Gruene
Parent Club Officer Conference Sept. 5-6 Annapolis
Spring 2018 Events
Posted: 2/9/2018
WELCOME ABOARD PICNIC CLASS of 2022
Sunday, June 10, 2018
1:00 PM – 4:00 PM
Pavilion #2 USAA 9800 Fredericksburg Rd San Antonio, TX 78298 Must RSVP (210)618-6733 and have valid identification
MEETING TO ELECT NEW OFFICERS & PLAN WELCOME ABOARD PICNIC
Sunday April 8, 2018
12:00 PM – 3:00 PM
Mama Margie's
17196 S IH 35 Schertz, TX 78154
SAN ANTONIO INVITATIONAL MENS GYMNASTICS MEET
Friday, Feb 9th Meet USNA Team at 11:00 am San Antonio Int'l Airport
Saturday, Feb 10th Watch all the academies compete
Mission Concepcion Sports Complex
714 E. Theo Ave San Antonio, TX
VALENTINE CARE PACKAGE ASSEMBLY
Saturday, February 3, 2018
1:00pm – 4:00pm
Cooper's BBQ 1125 Texas 337 New Braunfels, TX
Fall 2017 Events
Posted: 9/28/2017
USNA FOUNDERS DAY DINNER
Thursday, September 28, 2017 at 6:30 PM
River City Seafood & Grill 115 N Loop 1604 E San Antonio, TX
RSVP Required daved@frand.com
AIR FORCE VS. NAVY VIEWING PARTY
Saturday, October 7, 2017
2:30 pm – ?
Anchor Bar 4553 North Loop 1604 W  San Antonio, TX
HALLOWEEN CARE PACKAGE ASSEMBLY
Sunday, October 15, 2017
1:00pm – 4:00pm
Cooper's BBQ 1125 Texas 337 New Braunfels, TX
Another Successful Halloween Care Package Stuffing Event!
Posted: 11/22/2016
On Sunday, October 16 several members of the STNAPC met at Verde's Mexican Restaurant to prepare the annual Halloween care packages. We stuffed 43 care packages for the Mids of South Texas. The boxes were packed with generous donations from the parents who attended plus $400 worth of goodies from Costco and HEB and sent with $600 postage! Our Alamo area Alumni has provided generous donations to the South Texas Naval Academy Parents Club to make care packages possible! Thank you to all who attended! Apologies to any Mids that developed cavities…but, hey…they are on the government's dental plan now, not ours! 😉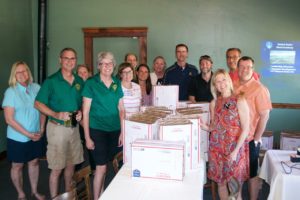 INTERESTING INFORMATION FOR LIFE AFTER THE ACADEMY
Posted: 11/5/2016
Each year, the Alumni Association sponsors Service Academy Career Conferences on the east/west coasts, DC, and in Texas. Alumni from ANY of the Service Academies are invited to interact with employers that are looking specifically for academy graduates. A SACC is being held in San Antonio in mid-November. As your midshipman transitions out of his or her service obligation [and sometimes even for those who are not commissioned for one reason or the other], this is an invaluable employment resource available to them. In addition, top-tier universities [20 signed up for the San Antonio event] use this forum to explain post-graduate degree options. Your mid, as an Association member, will receive information about this. I thought this might be interesting for you to know about.
ALSO, A BIG THANKS to San Antonio Alumni group. They are supporting a happy-hour mixer being held in conjunction with this event. They do so much; on behalf of our mids and area-alumni, we want to thank them for their continued support.
Hello world!
Posted: 4/28/2016
Welcome to USNA Parents Sites. This is your first post. Edit or delete it, then start blogging!
Parent Club Meeting
Posted: 10/2/2015
The next meeting of the local USNA Parent Club will be held…
Protected: Parent Club Officer Conference
Posted: 9/15/2015