News, Events & More
Dark Ages Care Package Assembly & Officer Elections
Posted: 1/20/2022
Sunday, February 6th at 1:00 PM at Rudy's BBQ in New Braunfels
Please join us for Naval Academy parent fellowship, care package assembly and STNAPC officer elections. STNAPC is in need of volunteers to help lead our club into 2022 and beyond, with officer terms for one year running from February to February. Please take a look at the attached job descriptions, we are looking forward to the addition of some of our talented STNAPC parents to our team.
Rudy's extends the courtesy of a meeting room free of charge. Please come prepared to purchase and enjoy a BBQ meal during our meeting.
https://rudysbbq.com/location/detail/new-braunfels-tx
STNAPC Board Descriptions rev 01-19-22.pdf
Apr. 10 | Membership Meeting
Posted: 2/7/2022
Membership Meeting, Elections & Care Packages
Posted: 2/6/2022
Please join us at Rudy's BBQ in New Braunfels on Sunday, February 6th at 1:00 PM!!
This is an important meeting, we will be electing officers for 2022-2023
Guests are asked to kindly purchase a meal so that we may have use of Rudy's meeting room.
https://rudysbbq.com/location/detail/new-braunfels-tx
Yard Arm Newsletter
Posted: 1/20/2022
The Yard Arm Newsletter has updated information on events, informative reading on the USNA and USNA Alumni Association.
https://www.usna.com/parents/newsletters
Summer Stem Program
Please share the following links with any friends or family who are interested in attending the USNA Summer Stem Program:
https://www.usna.edu/Admissions/Programs/NASS.php#fndtn-panell-Steps-For
https://www.usna.edu/Admissions/Programs/STEM.php#fndtn-panel1-Attending
USNA Spring Events & Dates
March 12-20  Spring Break (expires at 1800 on the 20th)
May 18     Youngster Luau
May 21      Ring Dance
May 23      Herndon Climb
May 25      Blue Angels
Links to Parent Club Stores
COMING SOON, STNAPC'S WIDELY POPULAR T-SHIRT PLUS A NEW DESIGN!!!
USNA Parent Clubs across the country offer merchandise of interest to Naval Academy families.
https://www.usna.com/parents/parent-club-marketplace
ANNAPOLIS PARENTS CLUB OF SOUTHERN CALIFORNIA   Reyn Spooner Aloha Shirt Fundraiser   APCSCtreasurer@gmail.com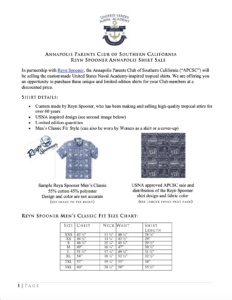 THE USNA PARENT CLUB OF CENTRAL FLORIDA    USNA  Class Crest Flags Fundraiser-Class of 2022       2018-2021 still  available.
https://www.usnapccfl.com/2022-crest-flag
http://southtexas.usnaparents.net/wp-content/uploads/sites/19/2022/01/navy_flag_2022_final.pdf
Commissioning 101
On February 19th, Presidents Day Weekend, the USNA Parent Clubs & Parent Programs will host Commissioning 101 in Annapolis, and in person. This is open to all parents but will be targeted to the families of the Class of 2022. The event is scheduled to begin with the Vendor Expo at 9:30 AM, followed by the main presentation which begins at 11:00 AM. It is anticipated that the event will finish around 1:00 PM, after all the raffles have been announced. Registration for this event is currently open and includes location information and other details. The cost is $10 per family, up to 3 members. The event will be made available by video and PowerPoint online.
http://www.usna.com/event/2022Commissioning101